Thank you for updating FireShot!
Your version has been successfully updated to the latest release. This update delivers some new additions and improvements:

Introducing Text-Searchable PDFs
No need to run OCR to capture full web pages and save them to text-searchable PDFs. Use FireShot Pro!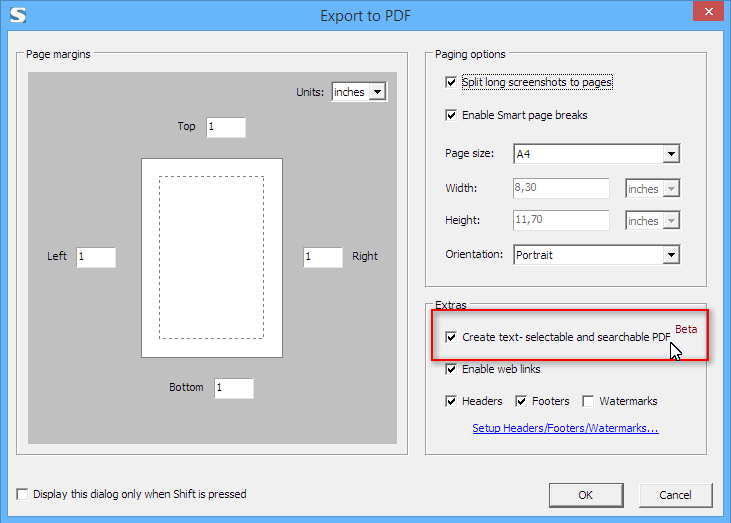 Additionally implemented:
New Save to PDF dialog. Customize page headers, footers and watermarks, page size and smart page breaks.
Added new locales.
Fixed FTP filename encoding.
Added PDF Page Number field to header/footer/watermark template.
Fixed an issue, when FireShot added attachments to all new GMail emails.
Improved performance.
View complete version history...

Switch to Pro Mode to get the advanced features!
Instant activation! Or, after 10 days, get FireShot Lite free forever. No catch!
Get more productivity with FireShot Pro:
Advanced capturing for frames, iframes and divs
Advanced Editor: Undo/Redo, Resize, Crop and Save features
Optimized speed and performance
Create multi-page PDF files
Printing and Uploading features
Work with Projects
Custom watermarks, headers and footers
Extended E-Mail support
Extended browser version compatibility (including betas)
Free major and minor upgrades
Direct Drag&Drop support for Gmail, Dropbox, Google Drive, Sky Drive, etc
See full FireShot Lite and FireShot Pro comparison table...
Get it now! Only two clicks required to go PRO:
Display the FireShot's dropdown menu
Select "Switch to Pro"
Voila!