Congratulations: FireShot Lite updated!
What's new in this update?
The Lite version has been officially tested and approved by Microsoft and is now available for instalation in Microsoft Store.
Additionally implemented:
— This update adds auto-scrolling for the area selection tool. If you need to capture specific HTML elements, or scrolling elements, please consider upgrading to Pro.
— Added Pale Moon 27+ support.
— Added Brasil locale.
— Better support for captures in Adwords, Analytics, Ebay, and some other web pages.
I think I was using another version of FireShot...
It had more features. Can I get it back?
You can get the installation package here.
Is it safe?
Absolutely! FireShot has always used native code, and we have always treated the security of our 2,100,000+ users very seriously. So you can rest assured that this helper executable is secure and trustworthy.
All your screenshots are stored locally on your PC. FireShot will never send them to web (unless you do this intentionally by asking FireShot to upload screenshots to image hosting servers).

Need performance and more functionality?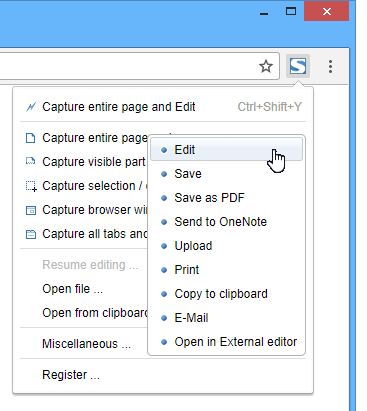 Become more productive using the advanced FireShot Pro features:
Create multi-page PDF files (text-searchable and with direct links)
Advanced Editor: Undo/Redo, Resize, Crop and Save features
Advanced capturing feautures, capture All tabs in one click
Optimized speed and performance
Printing and Uploading features
Work with Projects
Custom watermarks
E-Mail support
Microsoft OneNote support
Direct Drag&Drop support for Gmail, Dropbox, Google Drive, Sky Drive, iCloud, etc
See the full FireShot Lite and FireShot Pro comparison table...
Try it now! Only three clicks required.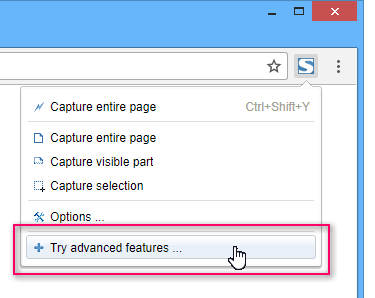 Display the FireShot's dropdown menu
Select "Try advanced features"
Confirm installation
You're done!
Can I use FireShot with another browser?
Yes! FireShot is provided to Chrome, Edge, Firefox, Internet Explorer, Tor, Brave, Opera, Thunderbird, Seamonkey, Pale Moon, Yandex, Vivaldi, and any other Chromium-based web browser, or Mozilla products.
You can get the installation package here.
I cannot see the "Install advanced functions" command in my menu. Why?
We're sorry, this feature is available only on Windows OS. It provides the functionality that is based on native functions that are not supported by your operating system.